Arthritis is a very difficult and painful condition that sadly doesn't just plague adults. It can happen to dogs as well. The condition is more likely to develop with age, as Kaylee, unfortunately, found out when she turned 13.
Kaylee has always been a fun-loving, happy pup with an eagerly wagging tail, but she's had more and more trouble keeping up with her family due to the development of arthritis in her hind legs. While she is still able to walk, she needs to stop to rest very frequently and can't walk for very long.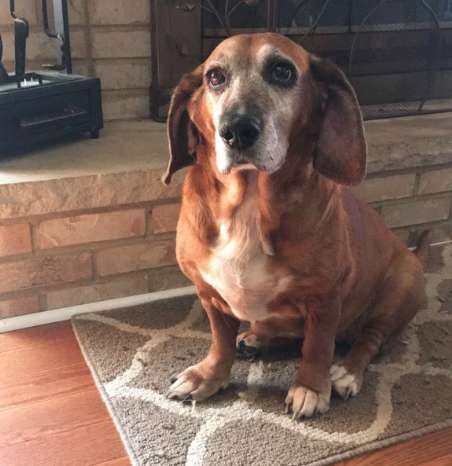 Her family has always hated seeing her suffer this way. That's when her dad came up with a unique and ingenious solution to help her regain some of her mobility. He must have all the creativity he had and spent his day off in their garage, where he whipped up a special little cart fitted with wheels that Kaylee could ride in.
Kaylee was absolutely thrilled with her new cart. She no longer had to strain herself in an effort to keep up with her family. Now, she could just sit inside the little cart and be pulled around whenever they went outside for a walk.
Of course, there's more to Kaylee's healthcare than just riding around in a wheelbarrow. Kaylee also does some low impact exercise in order to prevent excess stiffness in her joints. Her family has also made a huge effort to try and make the home more accessible to her.
It's safe to say that she is very loved!
Feature Image Source: