Meanwhile Somewhere In India, This Adorable Pup Joins People Chanting In Temple Every Week!
Have you ever heard of a dog practicing a religion? It's definitely not a very believable concept since animals can't really comprehend the concepts behind theology. Well, this pup, who lives in India, is quite a religious one!
It all started when this cute pup heard a nearby temple playing some music, with some singing thrown into the mix. Curious, he decided to visit the temple from the factory where he usually stays.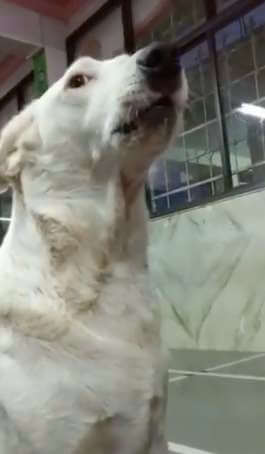 Within the temple was a religious ceremony known as keertan (or kirtan). This is a form of traditional storytelling that has been around for centuries. The pup was so enamored by this practice that, although he doesn't quite understand it or its significance, he's since come back every single Thursday to watch it happen!
The pup enthusiastically joins in with all the singing, howling his head off and showing just how happy he is to be joining in on the devout worship. There's something about the ceremony that just touches him in some way!
This devout little dog belongs to my friend's factory. Every Thursday evening, without fail, he walks over to the temple next door and joins the keertan. Then he has his share of prasad and trots back home. Every single Thursday! 🙂 pic.twitter.com/HiuluOJdiy

— sushma date (@sushmadate) April 11, 2019
He's certainly become welcome – many people there give him attention and pets. Plus, the pup always gets to eat a little prasad when the ceremony's over – a vegetarian tidbit often eaten during these types of events.
Could it be that the food is drawing the pup in? Is it the company? The affection he'll inevitably receive? The spirit of adventure? The music itself? Or maybe even the actual religion? We'll never know. But whatever it is, the pup will make sure to show up without fail each and every Thursday to join in!
Images & Feature Image Source: Twitter/sushmadate