Mom Builds A Mansion For Her Adorable Pups In Her Backyard!
Our dogs shower us with love, affection, and all the goodness that the world has to offer. All pup Mums and Dads know just how lucky they are to be receiving the unconditional, beautiful love of a pup.
As such, we try to do everything to make sure they get as good as they give. Victoria Palmer, a pup Mom from California, has taken that to the next level!
Palmer lives with three precious pooches: Marvin, a shepherd mix pup, Bruiser, a Chihuahua pup, and The Fuzz, a Pomeranian pup. All her life, she's valued their companionship. She's always wanted to give back to them in some way, and one day she found the perfect method to do so.
After tearing down a shed in her backyard, Palmer realized that the remaining concrete was the right shape and size to serve as a foundation for a huge dog house. Dubbing the project Barkingham Palace, Palmer and her father, when he was down to visit, set out to draw out plans for this luxurious mansion. Being no stranger to home improvement projects, the pair eagerly set to work framing windows and doors, buying materials, and more.
When her father eventually went back home, continued her work on the house. She spent weeks upon weeks working from dawn to dusk. She had to pick up a lot of new skills along the way, learning how to install frames, roofs, floors, and more. But she wasn't just aiming to make a mediocre dog mansion – she was going for true luxury. Apart from a classic Victorian style, Palmer also installed balconies, a large opulent staircase, and window boxes. She even put up portraits of all the pups!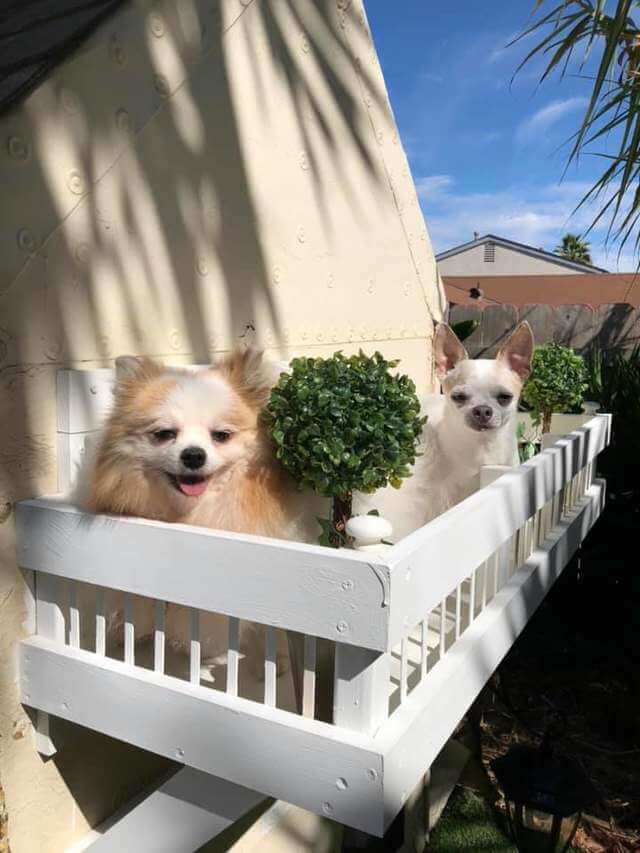 Now, Barkingham Palace has been completed, and it looks stunning! All of Palmer's pups are head over heels in love with it. They love climbing the stairs, looking out of the windows, and just hanging out inside!
Images & Feature Image Source: Victoria Palmer