Rescuer Left Heartbroken After Finding Tiny Pup Trapped In Dirty Basement
Loud barking echoed from a Cincinnati home. The Ohio property had been abandoned, but the distressed sounds went on for weeks until a pair of Good Samaritans came along to see what was going on.
After finding the property owner, they were given permission to enter the house's basement if they would help to fill up the water bowl for the pup down there, trapped. As soon as they got inside, they were shocked and horrified. A two-year-old bulldog pup was sitting on the floor, voice hoarse and sore, feet covered in waste, and absolutely begging for any attention at all.
The pup, named Gracie, was so excited to see someone down there, and she showered the two people with kisses. She was not well fed, with the property owner throwing in a bag of food for her every now and then. The Good Samaritans took a picture of her and posted it on Facebook, begging for help for her.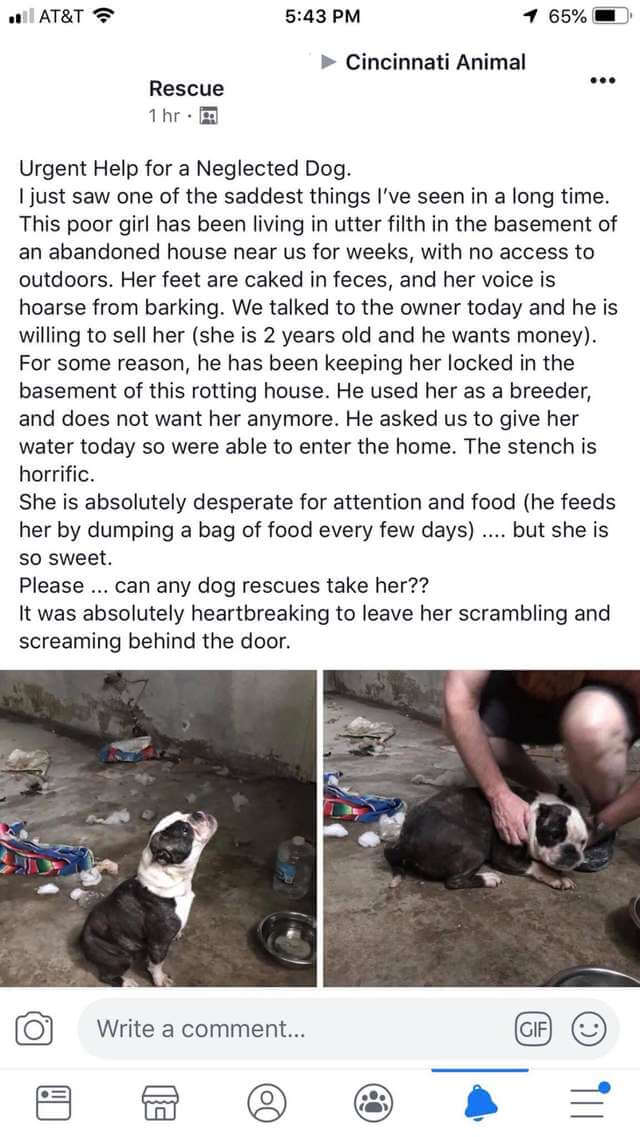 That's when the Queen City Bulldog Rescue spotted to post. They hurried to the scene and rescued her. They were able to buy her off of her owner for a mere $200 because he no longer needed her – she had been used for breeding and wasn't seeming to get pregnant again.
Poor Gracie was very touch-starved and was thrilled to receive affection at last. She trusted everyone she met instantly. She was so happy to be free, collapsing onto the ground so she could roll in the grass, a huge smile on her face.
Gracie has skin infections that are receiving treatment, and she has to be spayed in the near future.
For now, though, she's relaxing in a foster home – and her family loves her so much that they've decided to adopt her when she's healthy enough!
Images & Feature Image Source: Queen City Bulldog Rescue