Some friends were enjoying their time in Oklahoma, walking their pups, when they spotted a very thin, small, depressed puppy in the grass. Some of his fur was missing and he looked sad and defeated.
When the puppy saw the group, though, he got up and began trailing behind them. That's when the friends realized they couldn't leave him behind. They brought him to the vet right after. No microchip was revealed, so the friends posted about him online in multiple places, trying to find a potential family who had lost him.
After two weeks, no one claimed the puppy, so they decided that it was time to try and find the sweet, cute pup a new home. Luckily for them, a couple who they knew – Jacob and Katy Bywater – had been looking to adopt a pup. So the friends asked them if they wanted to take him in, and they felt that it was meant to be, so they agreed!
The Bywaters named the little pup Strider. He was nervous and anxious at first, and didn't really know how to play. When they first got him, he seemed to be just 10 weeks old. A vet guessed that he was likely a mix between a beagle and red heeler, so he wouldn't get to be too big – something the couple was glad for, as they wanted a smaller pup.
But when Strider turned 6 months of age, he nearly weighed 40 pounds. It was clear that this pup would be anything but little. So the Bywaters bought a DNA testing kit for him to figure out what he was – and he was a red heeler, but also a Great Pyrenees!
As he's grown in size, he's grown in personality, too! The pup now loves to play and run outdoors, and he's very playful and much braver than he once was.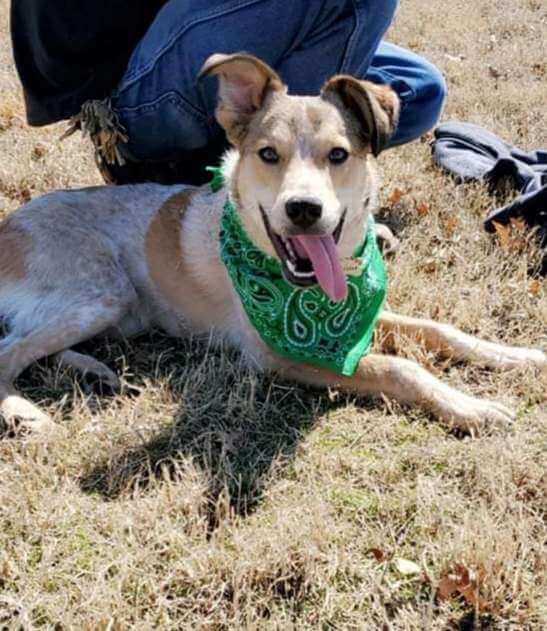 His Mom and Dad aren't sure how big he'll get, but no matter what size he reaches, it'll always be dwarfed by their love for him!
Images & Feature Image Source: Jacob Bywater